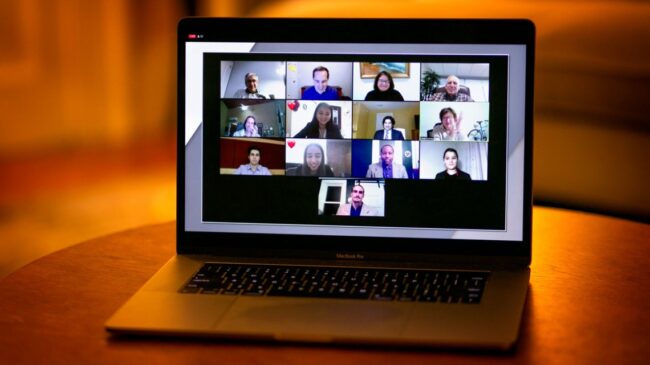 Cornell Chronicle: Swipe, match, eat: 'Weet' pitches better online dating app
By James Dean | 
The "swipe generation" is ready for more serious relationships and is outgrowing its dating apps, says an undergraduate team proposing an improvement to popular services like Tinder, Bumble and Hinge.
Weet – derived from "We eat" – would not only match its users like existing mobile apps, but also arrange the first date at a local restaurant – removing risk for the daters and delivering new customers to its dining partners.
"Imagine not having to take the first step, not having to take that first chance, getting the date set up for you," said Abhimanyu Goyal '22. "We do it all for you, and I think that's our biggest differentiator."
Weet won the $3,000 first prize in the fifth annual Cornell Hospitality Pitch Deck Competition, hosted virtually and livestreamed Nov. 12 by the School of Hotel Administration's Leland C. and Mary M. Pillsbury Institute for Hospitality Entrepreneurship.
The competition seeks to provide students considering hospitality-based startups an opportunity to practice pitching skills and develop concepts that might advance to the Cornell Hospitality Business Plan Competition next spring, which will offer prizes totaling more than $35,000.
"We certainly value really good ideas," said Andrew Quagliata, a senior lecturer in the Hotel School and faculty director of the pitch deck competition. "But the judges also evaluate the structure of the argument, the value of the visuals and the delivery of the message."
Twenty-five teams registered and a dozen submitted reading decks that a panel of judges evaluated remotely and winnowed to four finalists. On Nov. 12, each finalist played a pre-recorded 10-minute video presentation referencing decks of up to 11 slides, then responded to five minutes of live questions from three industry judges: Bob Alter '73, president of Seaview Investors LLC; Monica Digilio, director at Sunstone Hotel Investors; and Warren Leeds '84, founder and CEO of Dartcor Food Services.
The judges awarded a $1,500 second prize to Ultraviolet Transactions, presented by Alexa Torres '21 and Samantha Law '21. The venture aims to design and market a device for sanitizing cash, credit cards and coupons with UV-C light technology, enabling cleaner and safer payments.
A $500 third prize was awarded to Life After Life, a concept pitched by Jacob Tennenbaum, MPS-RE '21, and Jeremiah Swain, MMH '21, for reimagined and more environmentally sustainable cemeteries that would utilize parks and native gardens.
Rounding out the finalists, James Lambert '24 and Olivia Friedberg '24 pitched Executive Chef, a meal delivery service proposing to partner with high-end restaurants to offer easy-to-cook meal kits that bring fine dining home.
Presented by Goyal, the Weet team also included Aris Argawala '22 and Jacob Schlenner, a student at Babson College.
Quagliata said the judges thought Weet successfully identified a real problem for single people and communicated a novel solution. "Weet presented a creative and compelling narrative about how they plan to remove friction from the dating process," he said.
Swiping apps like Tinder are credited with the "gamification" of online dating, Goyal said, but too often fail to convert online matches into real-world meetings. Weet seeks to facilitate such connections over meals.
"Eating meals is something we do every day," Goyal said. "Why not use just one of those meals to meet someone new?"
Targeting 25- to 35-year-old singles, Weet would enable users to move up to three matches to a "podium" indicating a desire to meet in person. If both members of a match were free on a particular evening, the app would make reservations with an independent dining partner – perhaps an Italian restaurant, if the users had expressed a preference for that cuisine.
"In just a few hours," Goyal said, "we've converted an online match into a real-world date."
Weet would collect 30% of the restaurant ticket, which Goyal said represented a significantly better deal for restaurants than a service like Groupon, while promising a steady stream of new and repeat customers. The daters, meanwhile, would have the assurance of meeting in a neutral public place to prioritize safety, he said.
Goyal projected an ability for the app to generate $2.10 per active user per month, compared to an estimated $1.74 for Tinder.
Weet isn't aimed at typical college students, Goyal said, but hopes to take advantage of campus social networks – fertile ground for so many successful tech startups – to test its platform. Its solution: Launch at Brigham Young University, where Goyal said more than half of undergraduates are married by the time they graduate.
"We welcome you all to stop eating," Goyal said, "and start Weeting."